The History of British American Oil can be found at this private British American Oil website.
Another B.A. related link.
Ian Cranstone's Excellent Reference Source for B.A. Oil:
For a complete listing of B.A. Oil Tank car series, see Ian Cranstone's Private Car Roster.

To view a 100+ picture gallery of B.A. tank cars through the years, view Ian Cranstone's BAOX gallery.
Other sources of B.A. tank car pictures are:

Old Time Trains, CPR Trenton Division for a Colour B.A. Oil Tank car.

Canada Southern Private Car Page
BAOX 425 BAOX 701 BAOX 833
CGTX 1761: This particular car is part of the CGTX 1600-1799 series, which were built new by CC&F for CGTX in 1943,
of which some were leased to B.A. Oil. In 1961, all B.A. Oil cars went to CGTX.
For an excellent article on modeling a CGTX tank car, see the July 2002 Railroad Model Craftsman.
History of British American Oil in Kelowna
What would eventually become the B.A. Bulk Oil Storage Facility started as a Union Oil Bulk Oil distributor.
In 1944, B.A. Oil bought out the Union Oil Company in British Columbia, converting all the assets to B.A. Oil.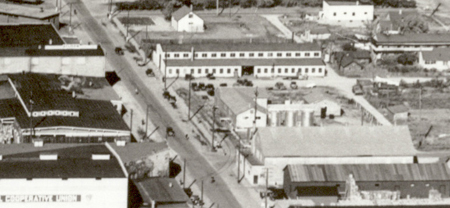 By 1947, the lubricant storage shed had been increased in size and another oil tank added.
A fourth storage tank would be added in the 1950s.
Located at the intersection of Ellis & Cawston, the address was 520 Cawston. Phone number was 40.
In 1950, when customer-dialed phone numbers were introduced, all phone numbers were then made to 4-digits.
The phone number then became 2040. After the 1944 B.A. Oil acquisition, more storage tanks were added.
This bulk oil distributor remained unchanged until 1969, when the name was changed to Gulf.
The next significant change was the removal of the siding in the mid-1970s and the change to Petro-Canada.
With land usage changes, the City of Kelowna wanted all bulk oil storage facilities removed to the outskirts of the city.
This facility was relocated in 1986. Today, this area is all condos.
B.A. modeling in H.O. (1/87)