Tug and Rail Barge History from a Kelowna Perspective
Canadian Pacific Railway completed a secondary rail line from Sicamous to Okanagan Landing in June, 1892.
This railway was called the Shuswap & Okanagan Railway.
An excellent diorama depicting rail to barge operations at Okanagan Landing, made by the Vernon Model railway Club.
Soon after, C.P.R sternwheelers started on Okanagan Lake.
From 1893, the S.S. Aberdeen was hard at work when joined by the S.S. York, which was diverted to the Okanagan, on January 18th, 1902. The Kelowna wharf was located at the foot of Bernard Avenue, where the Sails are presently located.
As the freight volume increased, another vessel was needed.
The S.S. Okanagan was constructed at Okanagan Landing.
Winters could be a challenge on Okanagan Lake for the vessels.
May 19th, 1914—The S.S. Sicamous was put into service at Okanagan Landing.

The S.S. Aberdeen was retired in 1916.

1920: the S.S. Kelowna was put into service.
The engine was from the Whatshan, an Arrow Lakes tug. Retired 1919, dismantled 1920.
The hull of C.N. tug #5 was launched May 8th, 1930, as is shown in the following three pictures:
Harry Pace is visible on the upper-side of the cabin.
Jock McGill was washed off the boat, as it hit the water.
S.S. Sicamous operations wind down.
C.P.R. obtains passenger train running rights on C.N. track from Vernon to Kelowna.
Pentowna goes from a passenger craft to only towing barges.
For additional reading and sources for some of my references, "Sternwheelers and Steam Tugs" by Robert D. Turner,
and "Sternwheelers, Sandbars and Switchbacks" by Edward. L Affleck.

There is still one barge left on Okanagan Lake, owned by Tolko Industries.
Its last big project was in the construction of the W.R. Bennett Bridge.
What Not to Do with Old Barges
Public outcry forced the removal of the barges from the lake.
An interesting article on C.N.'s wharf in Penticton, from the Model Railroader Magazine, May, 1968: [Page 1] [Page 2]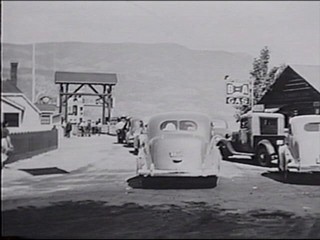 View a Kelowna Marine History Slideshow (WMV format; 26.5 MB)