Land Negotiations

An excerpt from the former Brandt's Creek (Canada Lands) web site outlines the early stages of rail to Kelowna:

In 1912, representatives of the Canadian Northern Railway purchased 33.6 ha (83 acres) in Kelowna's North End for the development of a rail yard. Construction was delayed for a decade, as Canadian Northern struggled to survive, and World War I erupted. Early in 1923 the amalgamation of a number of failing railway companies and the Canadian Northern Railway resulted in the creation of the Canadian National Railway Company.
The CN line between Vernon and Kelowna at least partly occupies the earlier KVR survey between Kelowna and Vernon. Not many people know that the KVR surveyed a line to connect Vernon with the rest of the KVR. I do not know the exact location of that survey except that it occupied the same stretch of line on the 'railway' between Kalamalka Lake and Wood Lake at Oyama. It is probable that the line from Oyama to Vernon is actually part of the earlier KVR survey. But for fact, the CNR line at Oyama is situated on the KVR survey undertaken during construction of the KVR. (Joe Smuin)
After a 10-year delay and a change in ownership, the railline from Kamloops to Kelowna finally gets underway.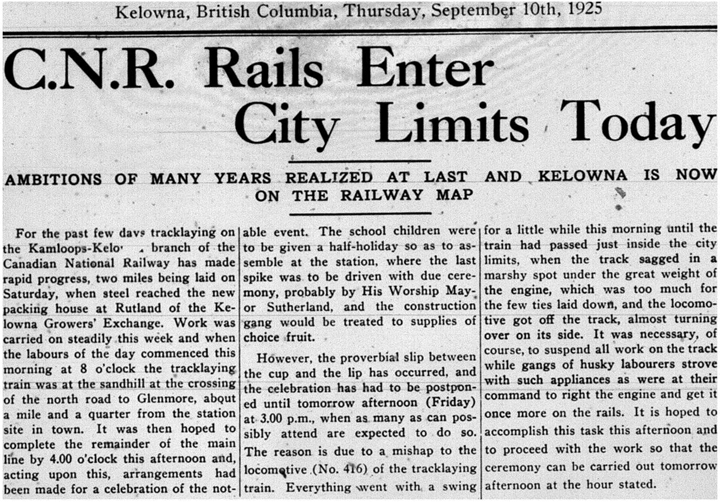 The big day finally arrives. Well, almost.
From Mile 118 to Mile 118.18, Brandt's Creek runs parallel, then under the track.
The surrounding area is marshy. There is also an Indian Burial ground located at the base of the hill.


The left-two pictures are located at Mile 117.9.
The right-two pictures are at Mile 118.1.
C.N. starts passenger service Feb. 15th, 1926.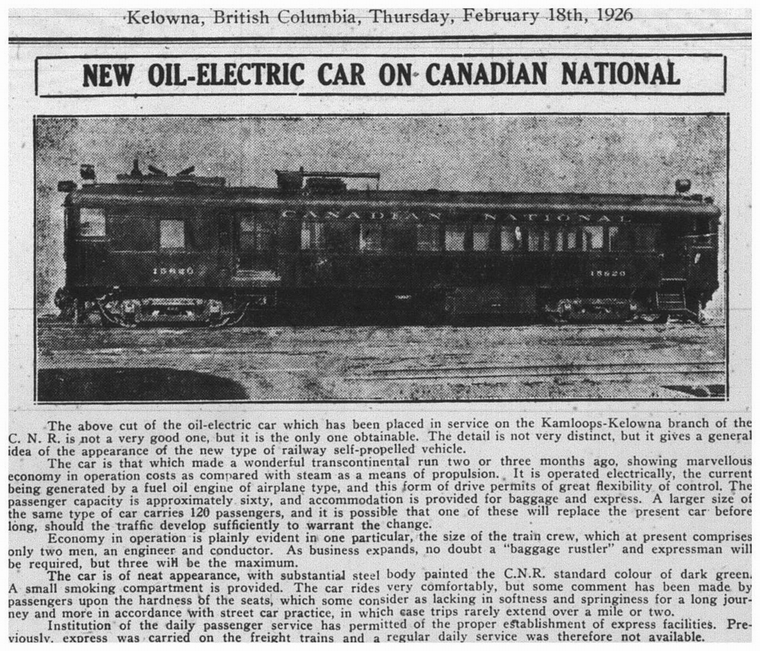 C.N.'s first attempt at passenger service.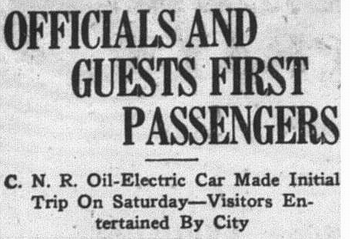 First Oil-Electric trip from Kelowna.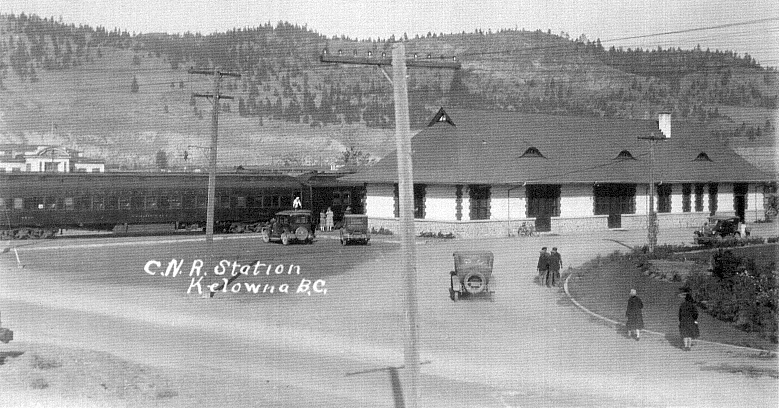 A busy place in 1929. Top of Kelowna Exhibition Hall shown.
Hall destroyed by fire on Feb 4, 1957.
Passenger car is named Vegreville.
C.N. Advertisements in our local paper, Jan. 10, 1935.
th
, 1925, interchange tracks were layed to the CP yard. CN also started it own barge service to Penticton. CP barge service was moved to Kelowna from Okanagan landing, stopping at Westbank, Peachland, Summerland and Naramata on the way to Penticton.
Track plan
of the CN yard as it was in 1948. Tracks at the bottom of the plan, or south, lead to the CP tracks and wharf shown on the last page.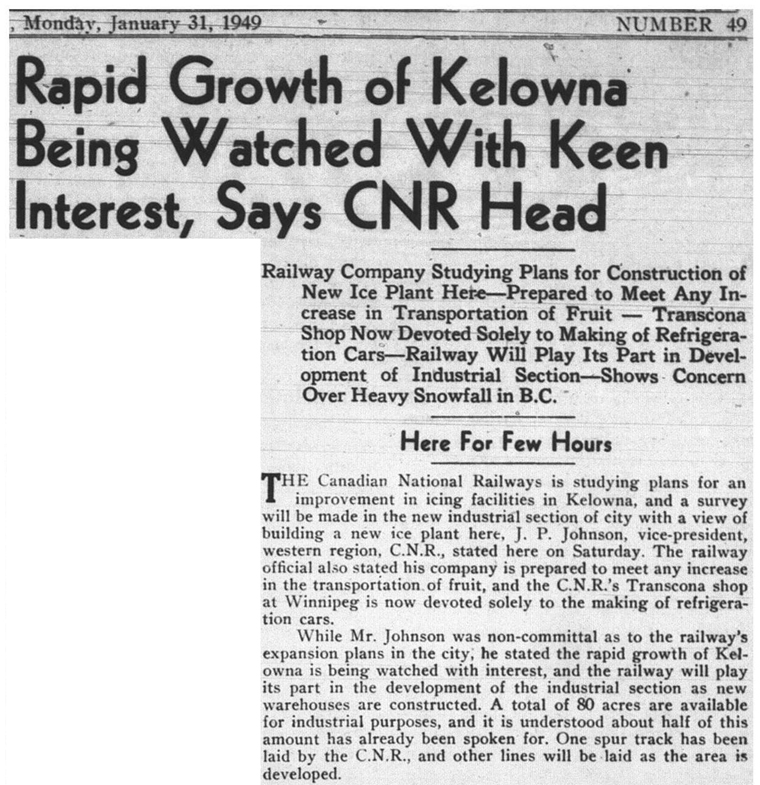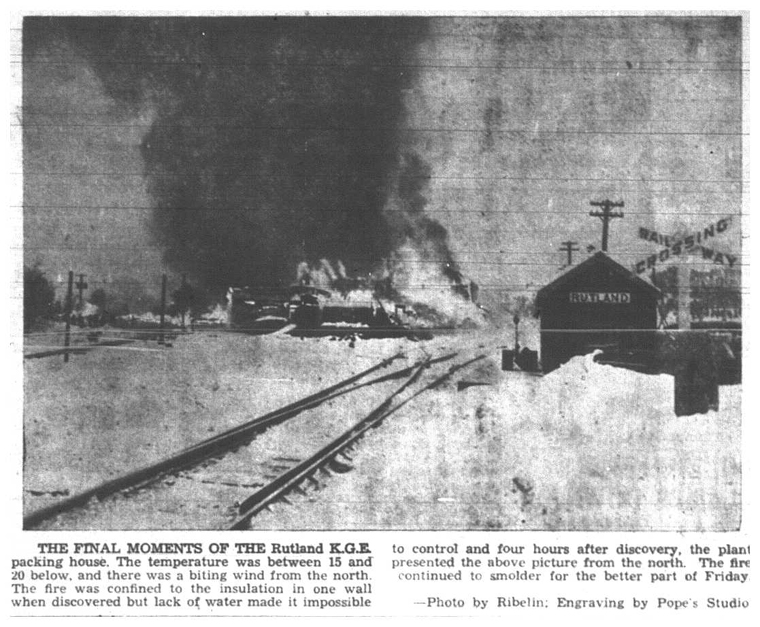 Jan. 15, 1950, on Sexsmith Rd. looking west.
Rutland was a very busy stop, with its own passenger shelter. It also had a team track and cattle pen.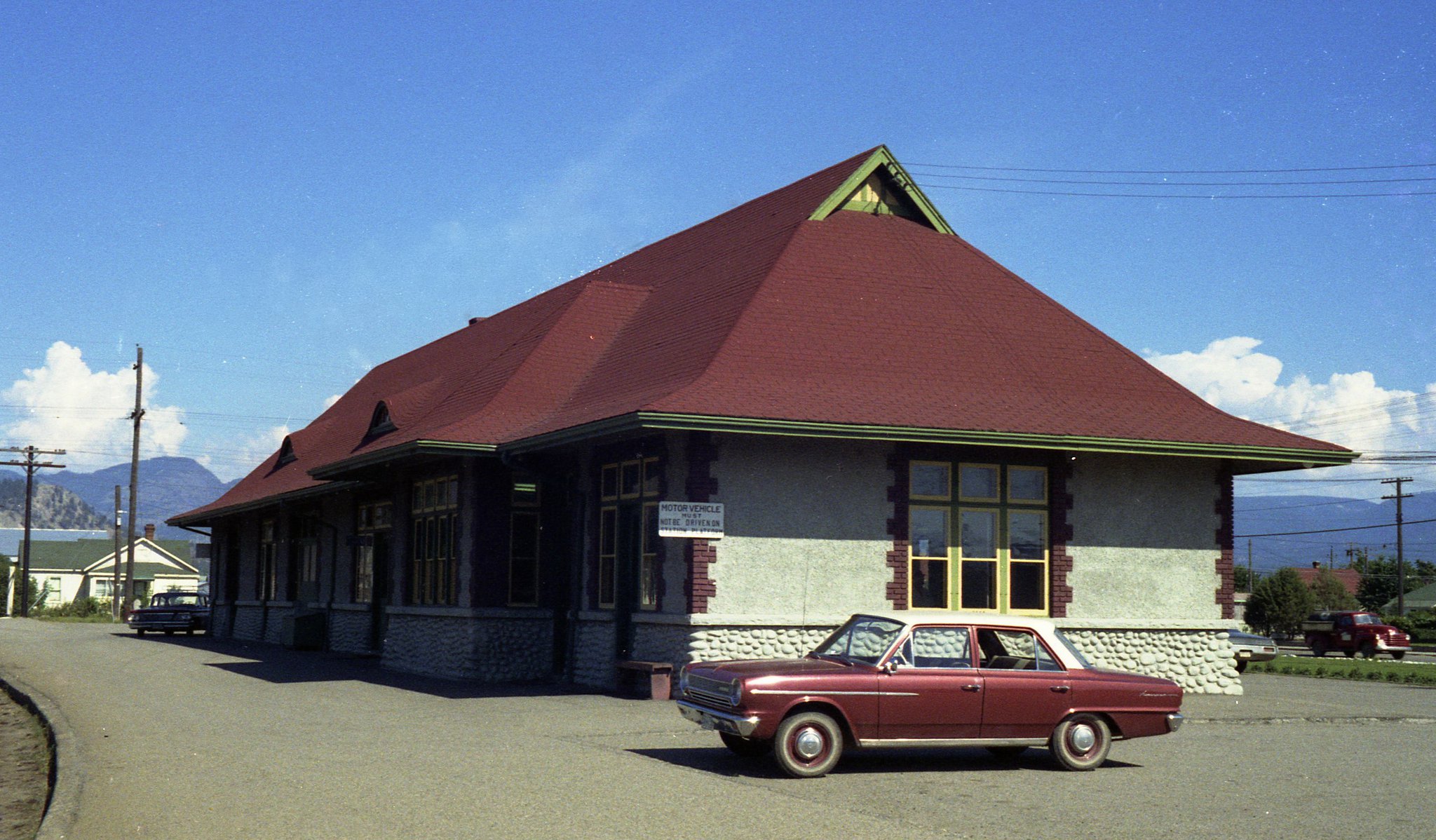 The CNR Station in Summer, 1968.
Views of the yard before the 1998 consolidation:
This new, consolidated C.N./C.P. yard remained until 1998 , when another major downsizing occurs.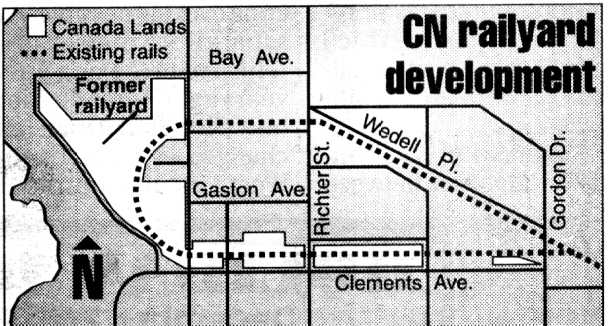 The above drawing shows the new location of the yard. From two tracks to what is now the Kelowna yard, along Wedell Pl. December, 1998. Area in white shows where the original tracks were lifted, leaving the station trackless. Original tracks to Riverside sawmill and plywood plant are left in place and with a slight realignment, are connected to the new yard.
Click Here To View The 2003 Kelowna Yard Track Plan.
Take a Google Earth Virtual Tour of the Kelowna End of the Okanagan Sub. Right-click this link, save KML file and open in Google Earth by selecting File> Open and selecting rail-tour.kml