Pictures of steam through diesel in the Kelowna yard.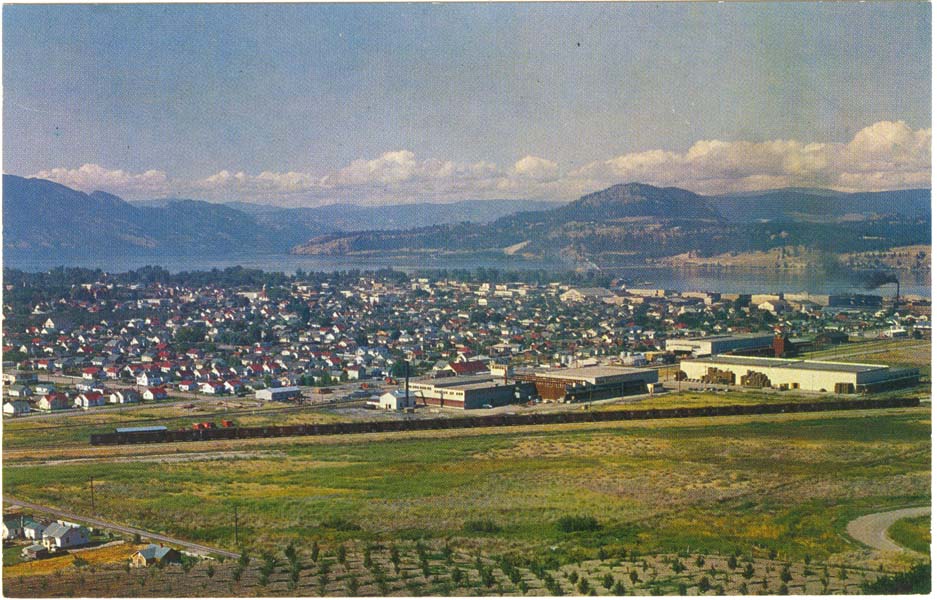 Scan of a 1958 postcard looking south west shows Sun-Rype and B.C. Fruit packers.
Tall red building by B.C. Fruit packers is the Ice House. Smoke stack on right is from Rowcliffe Canning.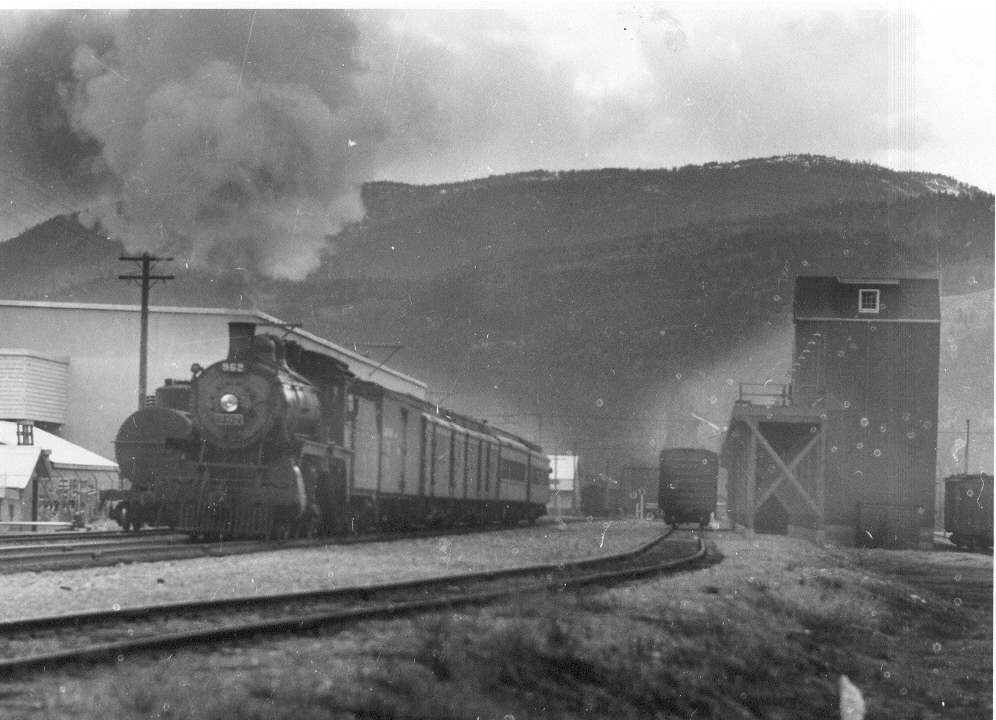 Steam engine CP 962 leaving Kelowna. Large white building to the left is B.C. Fruit Packers Co-operative,
which still looks the same today. New ice house is on the right.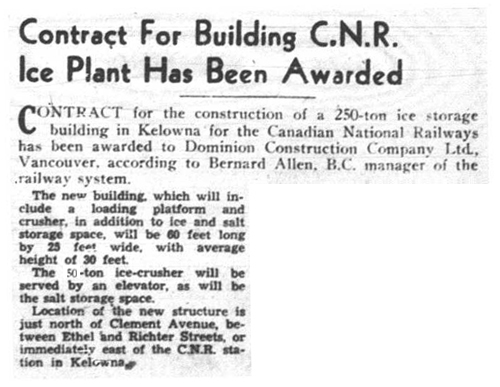 New C.N. Ice House & Icing Platform Contract Awarded, Kelowna Courier, May 16, 1949. A 1953 view of the ice house.
A 1951 view of the ice house on Vintage Air Photos.





Kelowna Fruit Packers (the white building in the background) is 409' 10" long.
The icing platform is basically the same length as the building. This would allow for the icing of 9 refrigerator cars.
C.N. did the first icing in Kamloops and then stored the cars in Oyama Pit. Cars were re-iced in Kelowna as necessary.
The refrigerator car in front of the icehouse is bringing ice to the plant.
C.N. Lines v. 14 #3 states that "Ice was brought to Kelowna from the Yellowhead Lake, which was near Lucerne, B.C."

For a description of how this ice house operated, view this article by Elmer Grenke.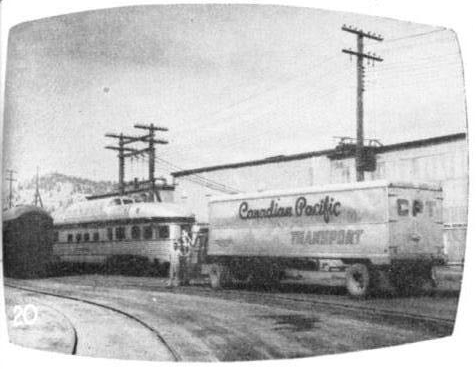 Budd demonstration train on a Canadian tour stops at Kelowna in 1954.
Shown is Banff Park, CP 15403 senic dome lounge car and hidden is
Chateau Bienville, CP 14202 sleeper in the Kelowna CP yard.


First diesel locomotive in Kelowna was a CP MLW S-4, #7111 on Sept.11, 1952.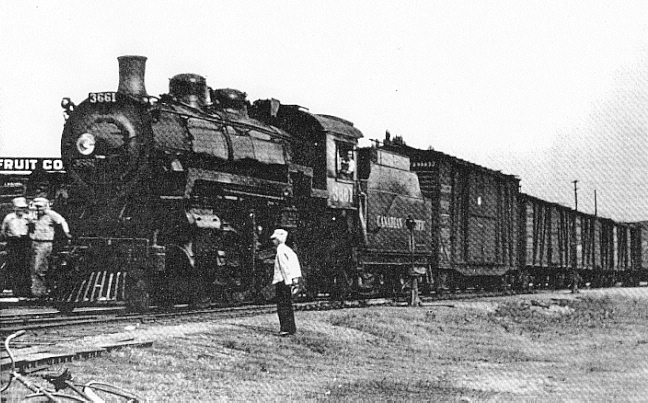 The Occidental Fruit Company in the background was destroyed by fire on March 27, 1961. CP 3661 is coming into the yard. The job of the man looking at the engine was to check the solid bearings on each train car for adequate lubrication.
He always rode a girl's bike, so that he could leave it anywhere in the yard, without it being stolen.
He figured no boy would ever steal a girl's bike! His helper retires.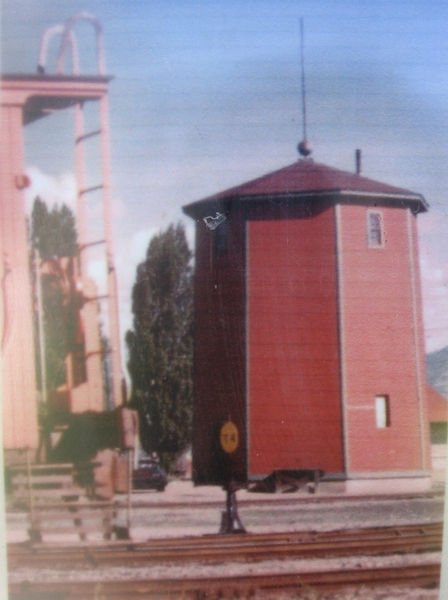 C.N. Kelowna watertower, days before its removal in 1960.
A September 1929 picture of
CN 2-8-0 2102
by the water tower. A much later view taken in the late 1940's after 2102 was
converted to a switcher
, pulls special train heading south from B.C. Fruit Processors.
A 1947 aerial view of Simpsons saw mill also shows
B.C. Fruit Processors location
by the arrow.
A
1964 view
of the north end.
In the early 1960's, your host spent alot of time after school visiting with the crew at the yard. Back then riding on the engines was not a problem and they were more than happy to have you there. I rode on GE 44-ton #4 and #6 many times.
Left, yours truly standing on the ground looking at CN #4, taken in June 1963. 9028 is at the head of the passenger train. 9034 was the alternate passenger engine. The train was short, a steam generator car, baggage car and a coach or two.
9028 blocks Ellis St. as passengers detrain. Traffic was light on Ellis back then.

On October 29, 1961 a Railiner replaced the passenger train. Even with the Dayliner, a conventional passenger train did appear more frequently, in the spring of 1963, up until the end of passenger service. Passenger train service ended on October 26, 1963. Sunday October 27, with the change back to standard time, a new C.N. charter bus service was introduced. A schedule shows the bus leaving the Kelowna station at 8:30 PM with stops at the Winfield Greyhound bus depot, Vernon station and additional stops, arriving at Kamloops Jct. around midnight.
Myself and Engineer Caswell of the
passenger train, we became good friends.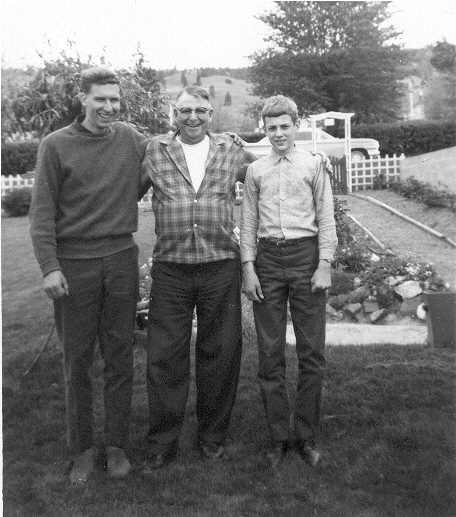 Left, Martin Howbold, center, Tom Caswell
and your host. Mr. Caswell died in 1970.
MAY, 2012: Evraz Pipe (formerly Camrose Pipe) has donated GE 44-ton CN #4, serial #32655, to the Alberta Railway Museum in Edmonton, Alberta.
There were six GE 44-ton units in total. The pre 1956 units, #1 and #2, were painted all black with yellow lettering.
New arrivals, #3, 4, 5, 6 were all painted in the 1956 scheme, Olive Green, gold lettering as shown above.
Over at the (much smaller) C.P. Yard
Other Notable C.N. Events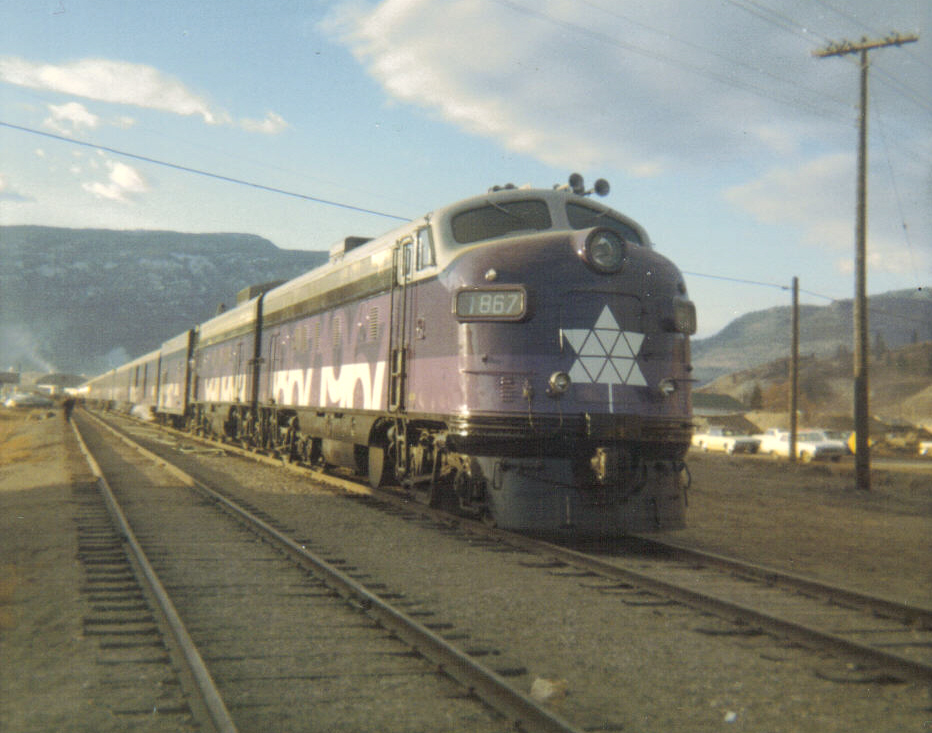 The Expo 67 train visits Kelowna in the spring of 1967,
as part of its cross-Canada tour.
Front engine supplied by C.P., rear engine C.N.
Additional pictures and horn sound clip of the Expo 67 train.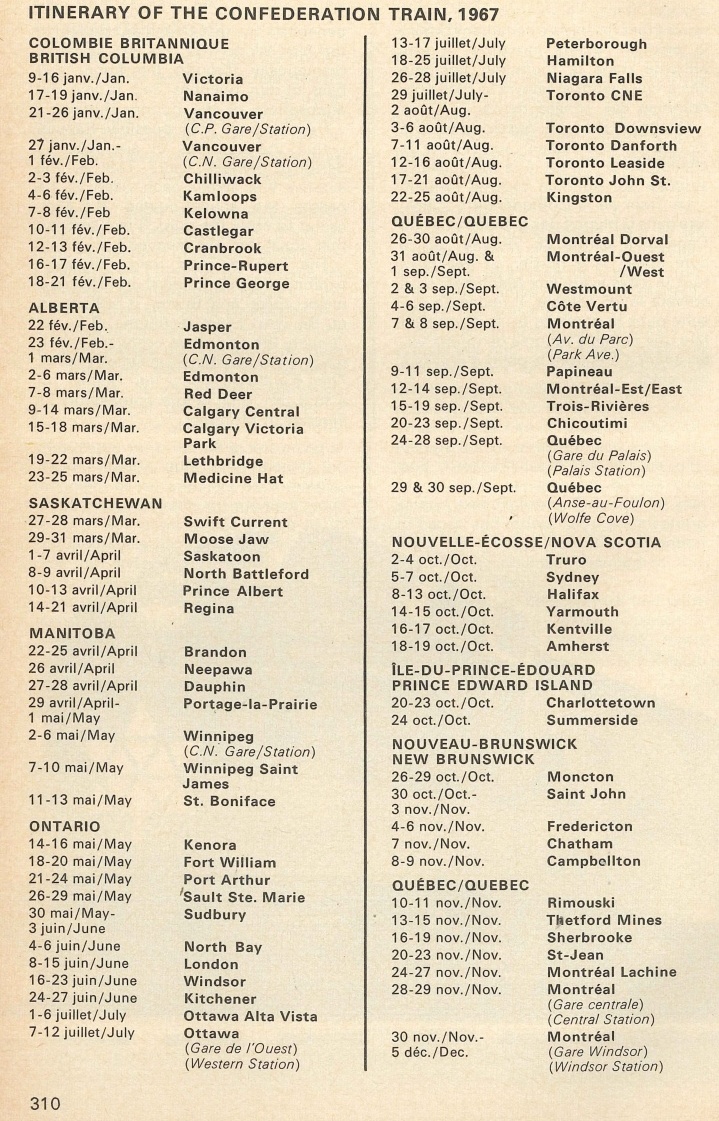 Confederation Itinerary (click for full-size)
CP donated this 8-hatch reefer to the Laurel Orchard Museum. A small piece of track and a loading dock by a side door of the museum was to be constructed, representing what it would have been like when the Laurel was a packing house. The Laurel never received funding to build the dock/track, so the car sits, slowly decomposing, to where it is today. The car is presently in such bad shape, that when the museum looked at it last, they figured it would cost thousands to restore it.
As of early December, 2015, the car has been removed from the Kelowna yard and transported to the Revelstoke Railroad Museum.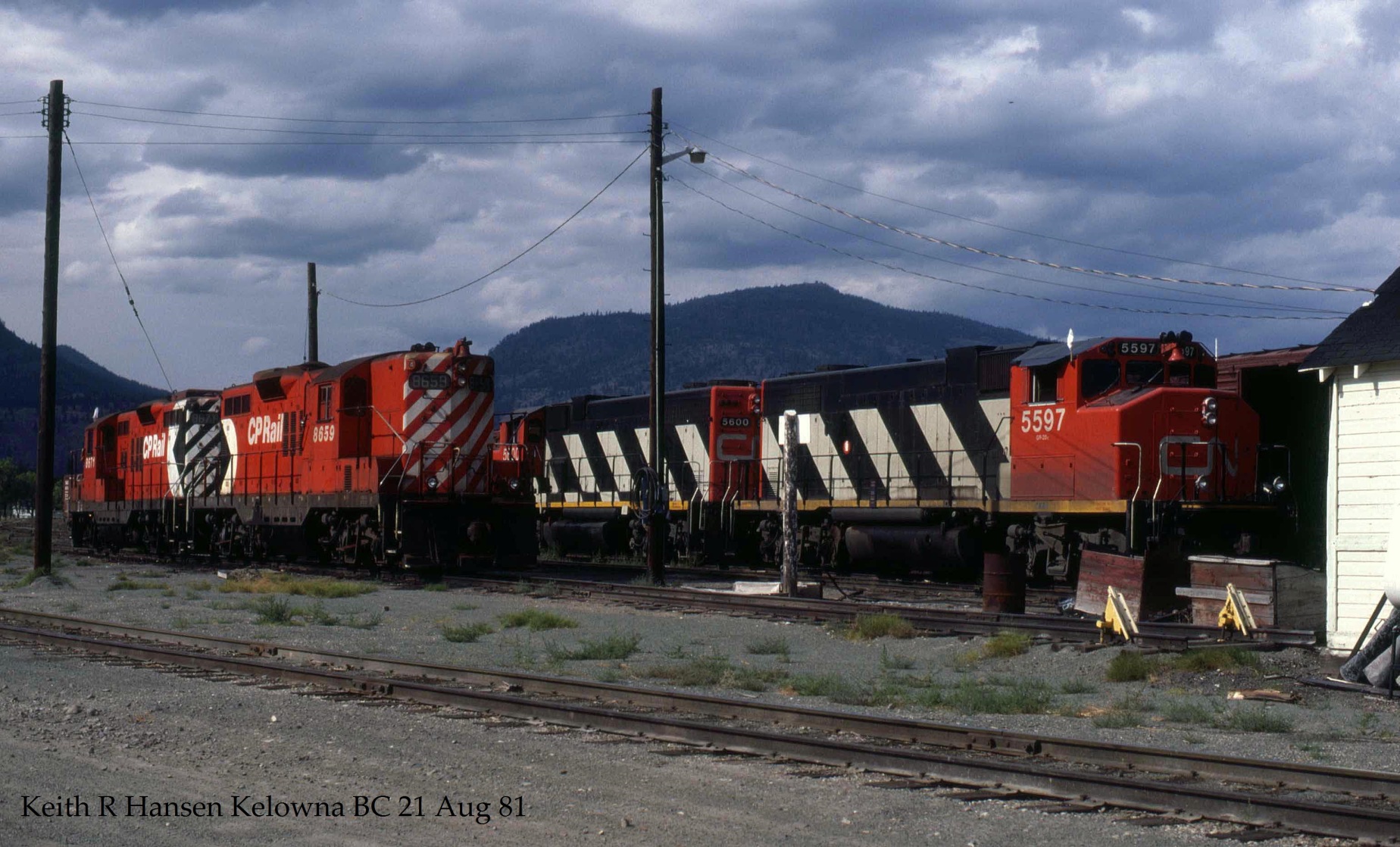 Earlier, CN 5597 and 5600 had dropped their inbound train in the yard. A CN 7000 series SW will now be switching that consist.
Since the elimination of the CP lakeside yard in mid-1972, CP 8659 and 8671 locomotives are sharing the CN shop tracks.
Thanks to Jim Booth for some 1987/88 shots of motive power in the Kelowna yard.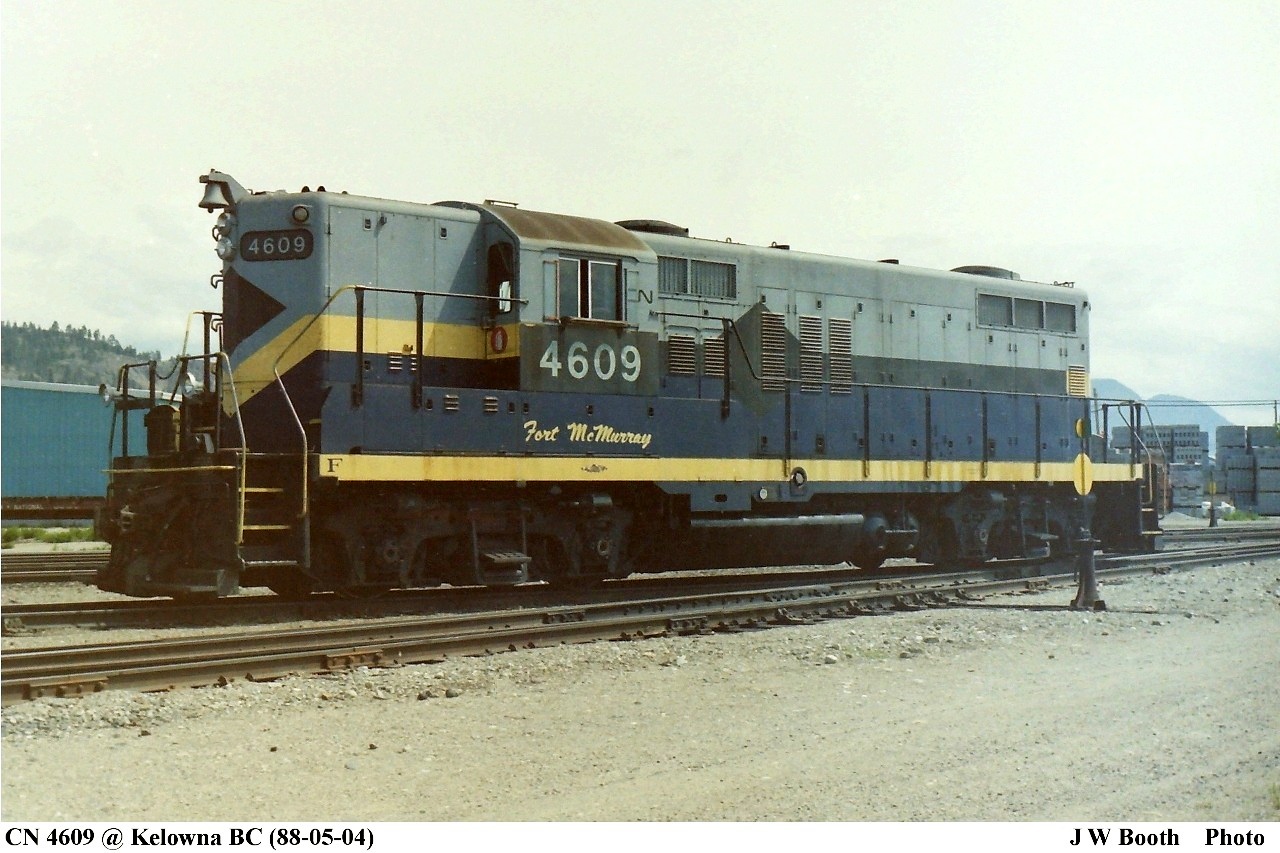 CN's takeover of Northern Alberta Railway.
Velocipede Monday, September 2nd, 1985 (Labour Day)
On a Monday, in late summer of 1985, I had to opportunity to ride from Winfield to Kelowna, which is all downhill. The four restored velocipedes belong to Ernest Edy. Ernest Edy was the station operator in Kelowna and had informed the C.N. employee that we would be out on the track and to keep an eye out for us. The C.N. speeder operator was kind enough to take a picture of the four of us.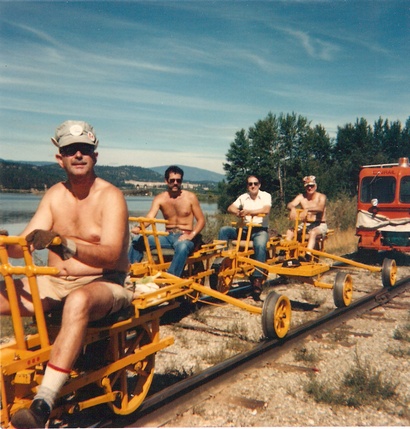 Lead person: Rijn Doeksen; Donald VE7DMW; Jim VE7JIM (your host) and at the back, Ernest Edy.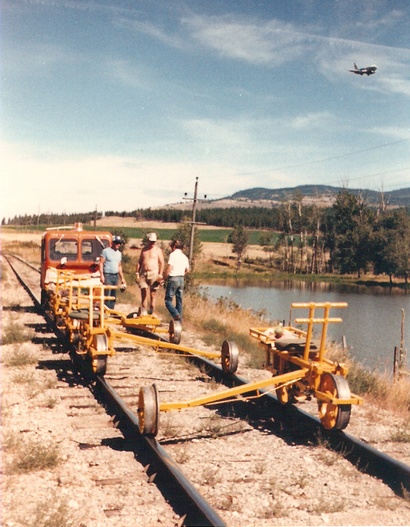 A C.N. speeder and the operator caught up with us and asked us how we were doing.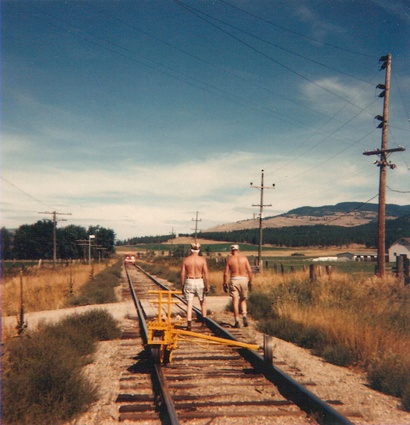 At the south end of Duck Lake. Ernest and Rijn watching the speeder coming up the track, about to pass Milepost 109.
May 2016 view of this scene, taken by Doug & Dawn Powell.
"Youth With A Mission" had some big ideas for CP passenger car 'Rosemere'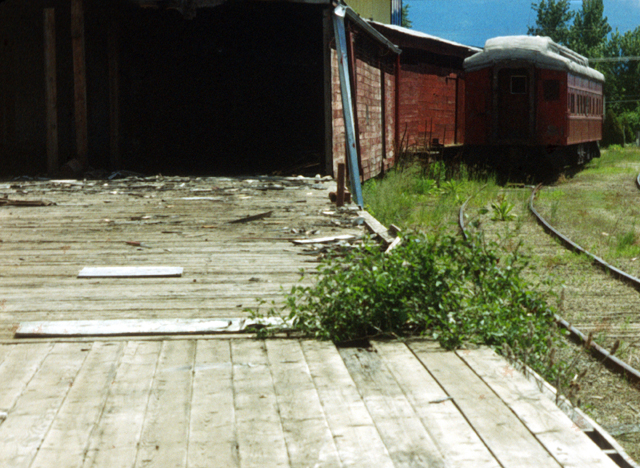 Nothing ever happened and the car was sold and moved again.
Credit: Chris 'BIGDoer' Doering
Thanks to Earl Roberts of
Branchline
, for the car's history:
She was built by CC&F and finished by CP's Angus Shops in April 1929 as sleeper 'Rosemere.'
In 1971 she was sold to American Youth Assn. in Connecticut.
She was later purchased by the Central Western Railway.
In 1993, she went to "Youth With A Mission" in Kelowna.
In November 1994, she went to the NRHS BC Chapter, in New Westminster BC.
And finally in 2002, she went to the Three Valley Gap Heritage Ghost Town
and Transportation Museum in Three Valley Gap, BC and is still there at last report.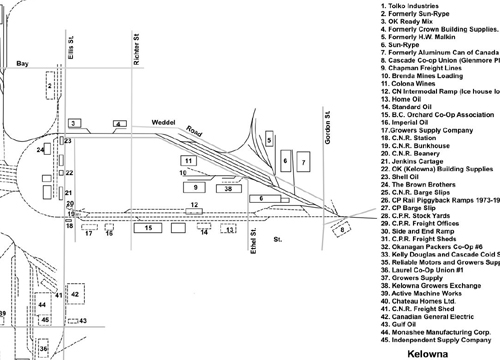 Solid line: present track layout.
Industries and customers served by C.N. and C.P. in Kelowna.

First train to Kelowna with a E.O.T. (F.R.E.D.) was CN on May 3, 1995.


WANTED! Any pictures or info relating to rail in Kelowna to add to this website. Contact me through the Email on the Homepage.